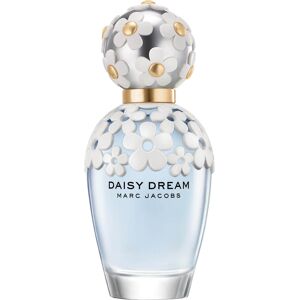 Marc Jacobs Eau de Toilette Daisy Dream de Marc Jacobs 100 ml
Features and technical details
El eau de toilette Daisy Dream de Marc Jacobs desprende un aroma sofisticado y fresco creado por el maestro perfumista Alberto Morillas.Esta fragancia, que combina acordes florales y frutales, crea un efecto azul con un aroma de ensueño de larga duración.  El perfume, que se abre con notas afrutadas de zarzamora, pomelo y pera, fluye hacia un delicado ramillete de jazmín, glicina y margarita antes de asentarse sobre un fondo cremoso de coco, madera blanca y almizcle. Daisy Dream es una fragancia ligera y suave, perfecta para llevar durante el día, que captura la extravagante esencia de un campo de flores. Presentada en un elegante frasco de cristal adornado con margaritas. Notas de salida: zarzamora, pomelo y pera Notas de corazón: jazmín, lichi y glicina azul. Notas de fondo: maderas blancas, almizcle y agua de coco.
0 of 0 results from 0 retailers
Sorry, we do not have any result for your search.
Similar products might interest you